The Turtle Lake Public Library is pleased to now offer traveling storytime to the Turtle Lake community! Each week, our Youth Services Coordinator, Betty Anne Benes, travels to area daycare and preschool centers to bring storytime to the children attending those centers. This outreach program helps these children attend library storytime programs during the week, during hours their parents and caregivers are at work.
This program provides storytime books and activities for children ages zero to five and is a supplement to reading activities they receive at home, in childcare, or at preschool. Regular reading and exposure to books is critical for all ages but is especially important for language and literacy development in young children. With regular exposure to books, infants can learn to touch pictures in books and turn pages by age one, and many start recognizing letters between ages three and four. Experts in literacy development recommend that children read at least 15 minutes per day, outside the reading they do at school.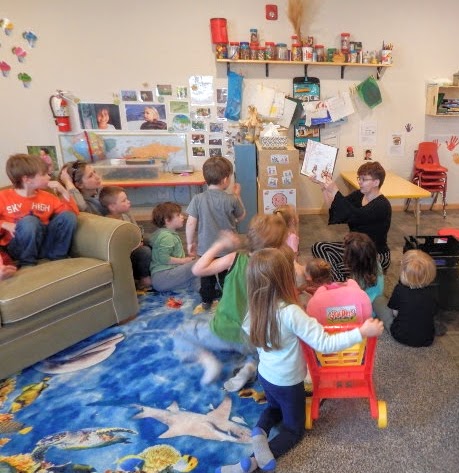 If you're interested in doing more to help your young children achieve their literacy goals, stop by the library and ask about our 1000 Books Before Kindergarten program. This sounds like a monumental amount of books, but it can be achieved in a single year reading three books per day, and many books for young readers are only a few pages long. If you start early and read often, 1000 Books Before Kindergarten is an achievable goal for every child. Our library staff will be glad to help you find books to meet your goals!
Also, don't forget to check out our summer reading program for all ages – the program kicks off June 24th and will be a great way for everyone to keep up with their reading outside of school requirements. Watch the library website and newspaper for more information!